To the Valley for the first time this season, breaking my boycott to be part of the protest. Details of the Pigs in Space event have been widely reported, including - importantly -
in the Belgian press
, and video of the violent suppression of a peaceful protest made it to
the Evening Standard
. The irony of that is exquisite. I'd suggest that at the next game CARD try to make the stadium a sea of North Korean flags, with two possible outcomes. Either a striking image is created or there's a beautiful story of hundreds of symbols of an oppressive state being censored.
The game itself wasn't bad, in fact. Not high quality, but open and, in a way, flowing. Coventry weren't as clueless as you'd expect, except where it mattered (scoring and defending). Charlton played much more attractively than they have in the away games I've seen. With Ademola and Holmes both starting, they tested the opposition more.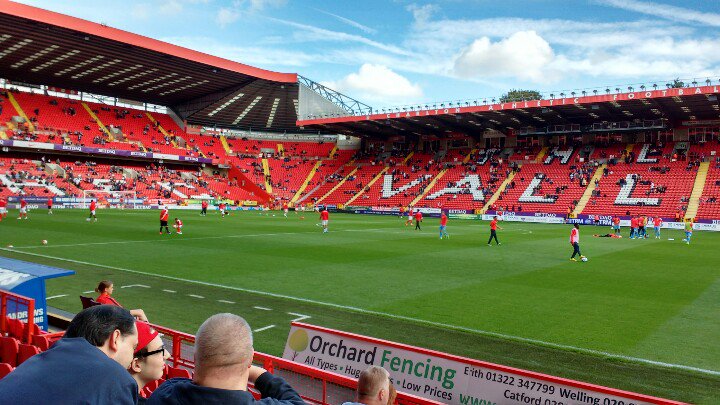 The first goal was against the run of play but well taken by Holmes. A suspicion of offside but the replays showed the officials got it right. The second goal was apparently well made, but I was standing at the urinal at the time, and the third goal came as I was leaving, hoping to get home before the rain. (This, ladies and gentlemen, is why I am not your man for a full match report.)
But I never leave early, I thought to myself, and I've cycled through snow to get to a match. Clearly I don't have the same attachment as I used to. During the pre-match build-up and at half-time it felt like being at an away game, observing the rituals from the outside rather than feeling part of them. It's a testament, I suppose, to the importance of Dave Lockwood. When he was trying to raise interest in the absurd fans sofa or the ludicrous pie-cam, I would feel sympathy for him, as for an actor lumbered with an awful script. I simply didn't care about what was going on on Saturday. I've searched hard and found I don't even have an opinion about the crossbar challenge.
And the stadium was so empty! Rationally, of course, I knew it would be, but I was still shocked. Presumably it's usually emptier still, without returning exiles. Without the Coventry fans and without the protests the atmosphere would have been dead. Once again, though, we saw that a protest can bring some life to the team, and the biggest win for some time.
Maybe you should bring your 🐷🐷🐷 along every week if that's the result 😂 ....just the result we needed!! Roll on Tuesday

#cafc

— chris solly (@cjsolly) October 15, 2016
So, despite the win, a rather depressing experience. This is not how it's meant to be.