A bizarrely enjoyable afternoon. Perhaps every game should contain just 45 minutes of play, with a little underwater gardening at half time.
The pitch was saturated before the game began and constant heavy rain mean that the referee suspended the game after 27 minutes. By then, Doncaster were 3-0 up. A slightly flattering score for them, as their keeper had kept out 2 or 3 strong Charlton chances, but they were clearly better at adjusting to the conditions and exploiting the chances it gave. Unsurprisingly the home supporters called for the game to be called off. Equally unsurprisingly, the always charming Paul Dickov argued vehemently against it. After a short break, it was announced there would be an inspection within 30 minutes. Ground staff started forking and squeegeeing the covered end goal area, while Johnnie Jackson jokingly poured the contents of a water bottle on to the pitch. Dickov sent out his team to stay warm on the pitch by splashing about in the puddles, and some of them grabbed forks and brooms and joined in. (Picture by @patrickcromb)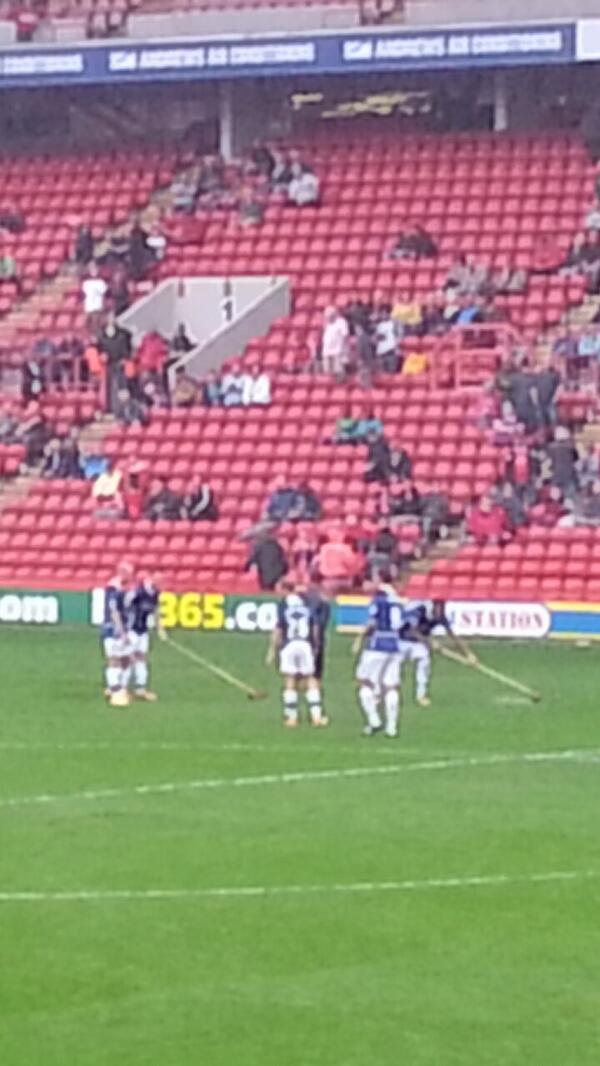 So the game restarted, although there really hadn't been any improvement in the playing surface and the rain was still falling. Charlton fans howled indignation every time the ball stuck in a puddle but gradually it became clear that the team were playing better. A goal back for Charlton, and a sending off for Doncaster, and the prospect of going into a second half suddenly seemed not so awful. The calls for abandonment eased off, and there was a feeling that the game was really on.
But during halftime the referee abandoned the game completely. The right decision but one he should have made earlier.
Doncaster fans have apparently been fiercely critical of the decision to abandon. But the game wasn't theirs. Anything could have happened in the second half, especially with them defending the boggy end. The only certainty was that there would have been weapons-grade time-wasting from the visitors. So at least we were spared that.
Next week Leicester City come to town.